Powerex Rechargeable Batteries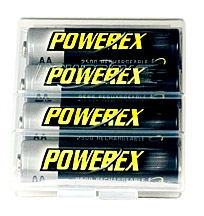 Powerex Batteries, available in AA & AAA sizes, use nickel metal hydride (Ni-MH) chemistry.

Powerex Batteries have a very predictable discharge curve, so it is easy to predict performance.

Powerex rechargable batteries work best when used with Powerex chargers, the best charger available for NiMH batteries.

Click here to purchase Powerex batteries & chargers.
Have you got other useful tips to share? Take a look at our blog!
Jeff Harrison
-Jeff Harrison is a sound person and special event producer who lives in works in Chapel Hill, NC. His most recent work includes producing professional school commencement exercises for the University of North Carolina.
He can be contacted at jeff@wirelessmic.net
Got a minute to take our wireless mic user survey? Click here.
Be sure to check out buybattery.com for your Duracell wireless mic batteries.
Explore the wonderment that is Gaffers Tape at buytape.com